11 Moments all Women in Search of Plus Size Dresses can relate to
Posted on April 11 2017
Is shopping a relaxing, therapeutic activity for you, or does it just stress you out and make your blood pressure rise? If you've ever gone shopping in search of plus size dresses, and encountered snooty salesgirls along the way, it's likely that shopping is NOT your favourite activity – and it's understandable!
Just know that you're not alone; this is a common issue faced by countless women in search of plus size dresses, or clothing, around the globe. As brands become more attuned to its consumers and more aware of the fact that they need to start manufacturing more clothing that actually fits the average woman, things will get better. But for now, live and let live, and check out our article on 9 moments all women in search of plus size dresses can relate to!
#1: When you realise that you've been staring at your closet for 30 minutes and you're still not dressed…
(Credits)
Sigh… time to go shopping.
#2: When you remember the painful experience you had the last time you went shopping…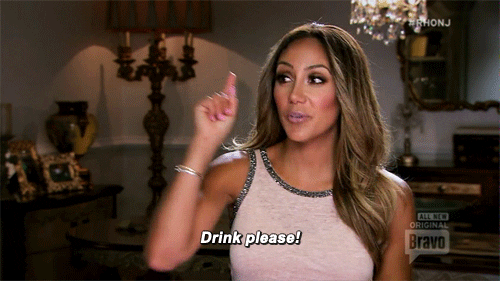 (Credits)
Why are salesgirls at clothing stores so snooty? Is being obnoxious, like, a basic requirement of working in retail?
#3: When you've had a change of mind and your friend needs to step in…
(Credits)
Damnit, bestie, I told you I can't face the thought of shopping! I'm just going to live in my PJs for the rest of my life!
#4: When she finally succeeds in getting you out of the house, and asks you why you aren't more excited…
(Credits)
Today is gonna be a long day.
#5: When you step into the first store, and the inevitable happens…
(Credits)
Oh no you DIDN'T.
#6: When you stand up for yourself, and put the salesgirl in her place…
(Credits)
Damn it feels good. At least she has the decency to look ashamed.
#7: When you go to the next place, and your friend insists you try on something that is CLEARLY too small…
(Credits)
You're my best friend and I love you, but you're also clueless and a nightmare to shop with.
#8: When you've been shopping for hours, and FINALLY you see something that is cute, isn't too small, and doesn't cost £200…
(Credits)
Now the only question… will it fit?
#9: When you try it on and all the stars align for once…
(Credits)
The dress fits perfectly, and your butt looks amazing. This is better than striking lottery!
#10: When you head straight to the cashier and empty your wallet without a second thought…
(Credits)
Take it. TAKE IT.
#11: When you change into your new dress immediately because you love it that much, and you catch a stranger checking you out…
(Credits)
Shopping is the best thing ever. Why don't I do this more often?
–
Not sure where to shop when it comes to plus size fashion? Check out Regal Gold Boutique for beautiful, luxe dresses for plus size women!